Saturday January 13th, 2024 - 10:00PM
Location : Big Laugh Comedy Club Fort Worth - Small Room Fort Worth, TX
Have you ever wondered to yourself, "What would it be like to see one of the best TikTok stars live in stand up comedy?"
So funny you thought that. A TikTok comedy star, Carter Anderson, just happens to be doing a full weekend in the instantly famous Big Laugh Comedy Club - Green Room.
Carter is the person behind some of the funniest TikTok's you have ever seen. If you have never seen one of Carter's reels before, watch the video below. You will love it.
Not only is Carter hilarious, but coming to see him at the Big Laugh Comedy Club is an experience you will never forget.
You will be greeted and waited on by the friendliest/go lucky servers in the game, with high quality fresh meals to make your stomach as happy as can be, incredibly tasty drinks (alcoholic and non alcoholic), and all the laughs that will leave you with a six pack walking out.
This will guarantee a night you won't want to end.
Grab your tickets now!
Doors at 9:30pm | Show starts at 10:00pm
---
Watch Carter
---
Ticket Info
- First come, first serve GA and Preferred seating
- There are no refunds
- This event is 18 and up, valid ID required
- If you don't show up 20 MINUTES after the scheduled show time, you will forfeit your tickets
- No heckling or videos during the show, if you can't play nicely you will be asked to leave
- There is absolutely NO VIDEO RECORDING whatsoever
- No backpacks or other large bags allowed in venue
- No animals allowed in venue
- Make sure to have fun and be respectful during the show
Grab your tickets before you are stuck wishing you had. Get them now!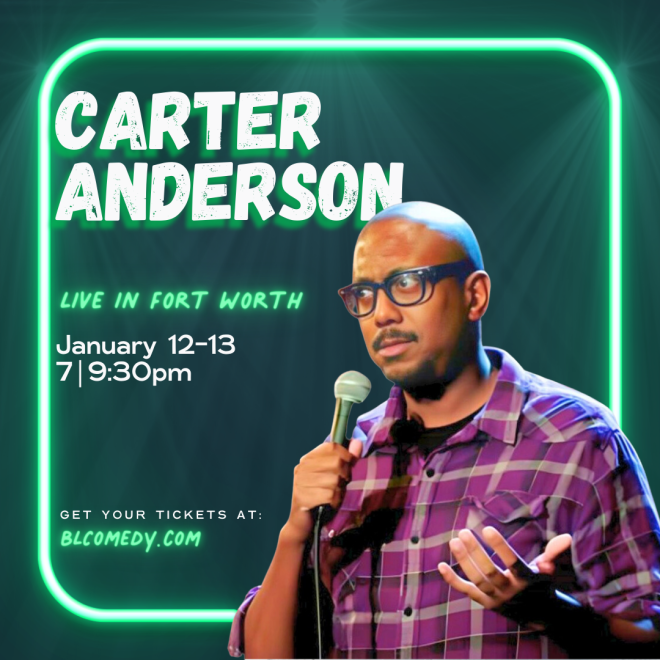 ×
Requirements :
ALL SALES ARE FINAL