Friday February 9th, 2024 - 7:00PM
Location : Big Laugh Comedy Club Fort Worth - Big Room Fort Worth, TX
Who loves laughing so hard your cheeks hurt for at least a day?
If that's you, you are in for a treat with this show. One of the funniest people in the world, Maddy Smith, is coming to Fort Worth for an epic weekend.
You might know Maddy from her hilarious stand up clips online or her hilarious segments on Wild N Out or you've seen her on tour with Bert Kreischer and Theo Von.
Or maybe you've never seen or heard of Maddy before. That's ok. No matter what you've heard about her, you need to see her live.
Just watch the clip of her below. Maddy is the future of stand up. You will want to see her live in person, up close and personal before she hits arenas.
So, grab your friends, a date, family, someone from Craigslist or all of the above and get your tickets now.
Doors at 6pm | Show starts at 7pm
---
Watch Maddy
Maddy Smith is a cast member on MTV's
Wild N Out [youtube.com]
, a nationally touring comedian, and a social media icon. Originally from Buffalo, Maddy is known for her quick wit and cutting roasts, and her seemingly lack of fear of whatever comes out of her mouth. After 5 seasons on Wild N Out, most would agree that what Maddy says is often "out of pocket" but you'll have to see for yourself in one of her multi-million viewed
YouTube compilations. [youtube.com]
Maddy opens for Bert Kreischer and Theo Von and has made appearances on
BET [youtube.com]
, HBO,
Barstool Sports [youtube.com]
,
and more. She's a regular at the Comedy Cellar in NYC.
---
Ticket Info
- Tickets are sold individually
- You can pick your tickets and the table you will be seated at
- Next to each ticket is a layout of the venue and where your tickets will be located
- This event is 18 and up, valid ID required
- There are no refunds
- No heckling or videos during the show, if you can't play nicely you will be asked to leave
- No backpacks or other large bags
- No animals allowed in venue
- There is absolutely NO VIDEO RECORDING whatsoever
- If you don't show up 20 MINUTES after the show time, you will forfeit your tickets
- Make sure to have fun and be respectful during the show
Grab your tickets before you are stuck wishing you had. Get them now!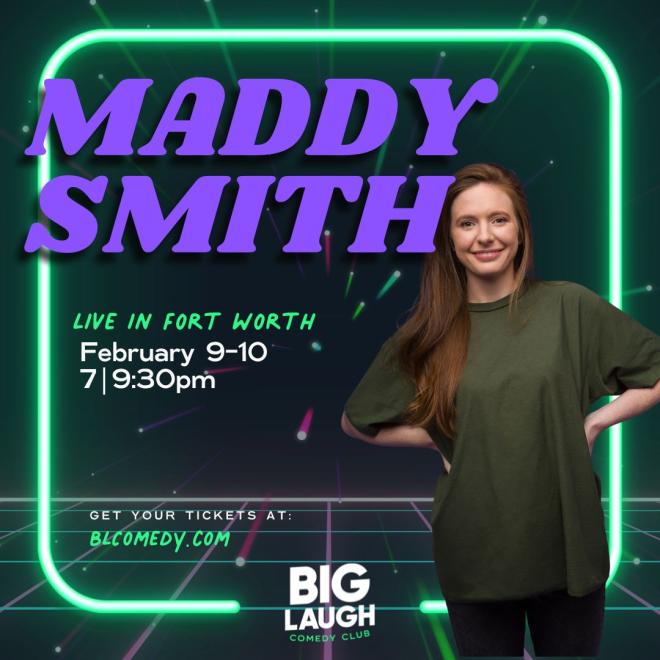 ×
Requirements :
ALL SALES ARE FINAL