Friday January 19th, 2024 - 7:00PM
Location : Big Laugh Comedy Club Fort Worth - Small Room Fort Worth, TX
If you find yourself sitting around thinking, "Where can I go for a night out that I will never forget?"

You found the right place. Comedy, baby! And we have a whole lot of it with this rising star in the comedy game.

Nick Simmons, a NYC based comedian who tours around the country with Bryan Callen, is coming to bring all the laughs to you in the intimately amazing Green Room at the Big Laugh Comedy Club in Fort Worth.

You don't want to miss a show with Nick at the already world famous Big Laugh Comedy Club.

You will start off the night by being greeted and waited on by the friendliest and funniest servers in the country.

Followed by the options to order a fresh, high quality meal or finger food, but not that fried crap. Like real fresh, quality tacos, pizzas and wings made fresh.

You can wash that down with one of the best drinks you'll ever have in your life.

Topped off with all the laughs to make the entire experience euphoric.

Don't wish you were here, grab your tickets now before it's too late.
Doors at 6:30pm | Show starts at 7:30pm
---
Watch Nick
---
More About Nick
Nick Simmons, a NYC-based comedian, has been lighting up stages with his hilarious standup comedy performances. Touring the country over the past year as the feature act for Bryan Callen, Nick has been captivating audiences and steadily expanding his fan base in every city.
His ability to use humor as a tool for understanding has propelled him to success on social media platforms. With a strong presence on both Instagram and TikTok, he has amassed a large following and enjoys an incredibly high engagement rate. He has multiple videos amassing millions of views, ranging from 3 million to an astonishing 17.3 million.
With his relatable humor and ability to use humor as a tool for understanding, Nick is a high-octane comedian on the rise.
---
Ticket Info
- First come, first serve GA and Preferred seating
- There are no refunds
- This event is 18 and up, valid ID required
- If you don't show up 20 MINUTES after the scheduled show time, you will forfeit your tickets
- No heckling or videos during the show, if you can't play nicely you will be asked to leave
- There is absolutely NO VIDEO RECORDING whatsoever
- No backpacks or other large bags allowed in venue
- No animals allowed in venue
- Make sure to have fun and be respectful during the show
Grab your tickets before you are stuck wishing you had. Get them now!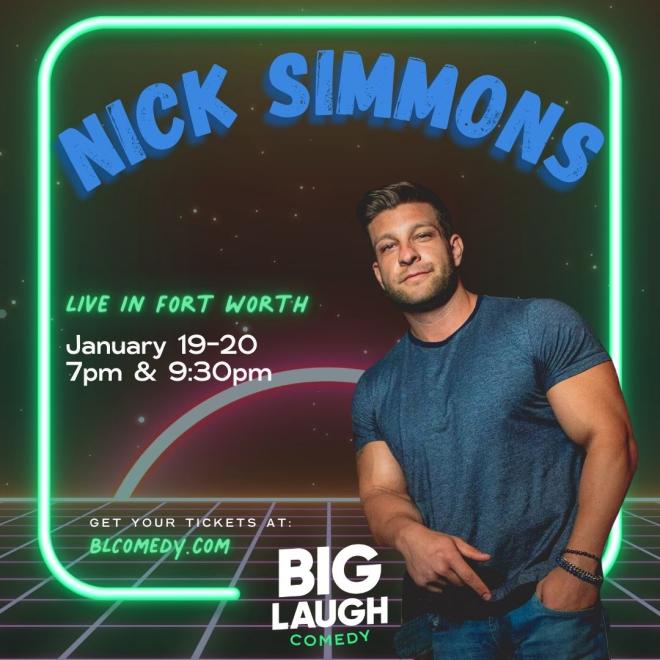 ×
Purchase Tickets
Requirements :
ALL SALES ARE FINAL