Stand-up comedy in Austin: Why is it so popular?
Austin's stand-up comedy scene has had a ton of growth over the past year.
There was always a flourishing local scene with no shortage of stage time, but the comedians who wanted to pursue a full career in standup or comedy typically needed to move on to New York or LA eventually.
The events of 2020 changed that. And for the city of Austin, at least, we began to see a boom that's still erupting in many industries the town has to offer.
Comedy is not immune to that. And "the Rogan effect," as some are calling it, has spurred an avalanche of other comedians to start rolling into town after he announced his move last summer.
Long story short: Joe Rogan announced that he was moving to Austin and that he wanted to make a "comedy Mecca" here, and that seems to be what's happening.
And with comedians (typically) comes their podcasts.
Over the last decade or two, comedians have realized that they are able to reach far more fans, with fewer guidelines, on their own show versus a company-produced project.
This has caused many of them to begin building their own online shows, sketches, subscriptions and podcasts.
As a result, there is no shortage of comedy podcasts out there to choose from these days!
With this big movement in the national comedy scene to the Lone Star State, several podcasts have changed shooting locations and even more have popped up in the capital of Texas.
And since we all know Rogan shoots here since he moved, let's look at some of the other podcasts that shoot in Austin.
From local-grown shows that have gained their following from here the whole time, to new shows that have just begun, to heavy-hitters that now call the ATX home - here is a list of 7 comedy podcasts that are now based in Austin.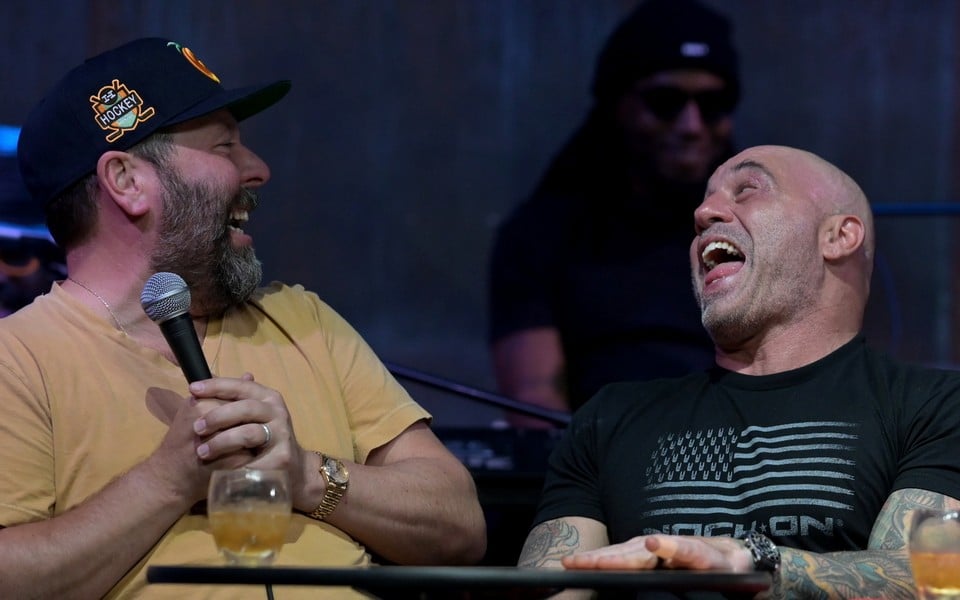 8 Comedy Podcasts Based in Austin, Texas
1. Welcome to Brookwood
This hilarious show is co-hosted by Rocky Dale Davis and Tony Casillas. The two work the road together a bunch, and frequent the same hangout spots when they're in Austin together.
Welcome to Brookwood is a great show if you want to hear ridiculous stories about what it's like to work in comedy or if you like shows that feel like you're hanging out with a group of friends.
The banter between Rocky and Tony will leave you spit-taking and eager for the next episode.
Check out an episode of Welcome to Brookwood here:
---


2. GiggleBoys Podcast
GiggleBoys is a podcast co-hosted by Mike Eaton and Eli Halpern. If you think your friends are crazy, you simply haven't listened to these two talk for any amount of time.
The GiggleBoys Podcast is two friends who tell each other the most insane sh*t they can think of, and bring on guests who also somehow end up telling wild stories.
Beyond interviews with people that Mike and Eli think are funny, the show also features the "Worm Report" by Austin's favorite new find: Casey Rocket.
There is no point to the show, and it will leave your cheeks sore from giggling along with them.
You can find the GiggleBoys on the Drinkin' Bros Network:
---


4. Spoil the Beans
If you're a movie buff who likes to laugh, this is the podcast for you.
Actually, if you know zero movies, this podcast is for you, too.
Spoil the Beans is a podcast hosted by Deric Poston, and often cohosted by Sam Lopez.
The premise is simple: Deric watches a movie Sam or his guest has never seen, and then Deric explains the movie to his guest and tries to make it all make sense.
It can get hectic and hilarious quick. You'll never want to check IMDB for a plot synopsis again.
Check out Spoil the Beans here:
---


4. Gender Fluids
Gender Fluids is a podcast born and bred in Austin for the last few years, and it features hosts Arielle Isaac Norman and Ava Smartt.
These two are stand-up comedians who use their podcast to dive into "all the deliciously depraved conversations you'd be fired for having" - especially regarding gender and sexual identity.
If you want to learn some outlandish new things and laugh along the way, check this podcast out. Not for the faint of heart!
Click here to check out the Gender Fluids podcast.
---
5. DeTalks with Allison
This is a podcast for those who want to learn more about the comedy industry and those around it.
Allison Wojtowecz hosts this podcast at MSW Vitamin Lounge, inviting comedians and other interesting people to chat with her while they get vitamin IVs.
DeTalks with Allison is all about learning more about the guest, and what it's like to be them. Sometimes stories get insanely funny and other times comedy veterans give really great advice. Whatever the conversation, it's bound to be interesting and fun to listen to!
Check out Brian Holtzman on DeTalks with Allison here:
---


6. Your Mom's House
This one goes without explanation for most big comedy fans.
Your Mom's House is the podcast co hosted by Tom Segura and Christina Pazsitzky, two of the funniest comedians on the planet...who also happened to be married to one another. They moved out to Austin in 2021 and have since been recording some of their new podcast episodes here.
This podcast has just grown to include more and more inside jokes, have its own vernacular, and continue to introduce new elements like the live shows Tom and Christina host from time to time.
The format of the show includes several different segments, some including guests and some only between Tom and Christina. It's a circus to your ears and eyes, and you'll understand why this is one of the biggest podcasts in the world after you check it out.
Here's a hilarious YMH episode featuring Shane Gillis:
---


7. The Feedbak Podcast
The Feedbak Podcast is hosted by a comedian who goes by "Bak," and this is one we would consider an "underground look" into the Austin comedy scene.
Bak interviews up-and-coming comedians, typically based in the Austin area or those traveling through it.
When someone talks about the "up and coming" comedians in a scene, that can mean many things. This podcast is for those interested in seeing how people find or work toward success in the comedy industry, different viewpoints on the industry from those working through it, and who want to laugh a lot about the absurdity of it all along the way.
Check out this episode of the Feedbak Podcast featuring Lukas McCrary:
---


8. Kill Tony
Kill Tony is the biggest live podcast in the world, and it's made Austin, Texas its new headquarters.
This podcast features Tony Hinchcliffe and Brian Redban at the table on-stage for the show. Each week, Tony invites a famous comedian to join him and Redban at the table to be on the "panel."
The show includes a band to play at the top and end of the show, as well as between performers. Each week, anyone can sign up to put their name in the bucket for a chance to be randomly pulled to perform one minute of uninterrupted stand-up comedy in front of the panel, the band, and the typically-sold-out audience.
After the performer's minute is done, the panel interviews them...and things can get wild, fast.
This show also includes several "regulars" who get to perform one new minute every single Monday on the show.
Kill Tony is a great example of one of the many ways the comedy industry is booming in Austin right now: young comedians have a chance to show their talent and be rewarded for it.
Check out an insane episode of Kill Tony here - shot every Monday at one of our partner venues, Vulcan Gas Company:
Austin comedy will only keep growing
The scene's stretch marks from this last year haven't even settled in yet, and it seems like Austin is just going to keep growing as a staple in the comedy industry.
There are several clubs open and working across town, with even more in the works to crop up over the next few years.
If you're a fan of comedy and want to see something that's never happened before, now is the time to pay attention to comedy podcasts - especially the ones in this article, coming out of Austin.
We get to witness history here!