When Akaash Singh was starting in comedy, a stable of South Asian comedians were getting their big breaks.
Aasif Mandvi had landed The Daily Show, Mindy Kaling was co-starring, writing, producing, and directing on The Office, and Kunal Nayyar was starting his run on The Big Bang Theory. Even Aziz Ansari was two years away from his breakout on Parks and Recreation.
It seemed as if Hollywood was making up for the decades they'd ignored brown comedic talent, but Singh quickly realized he wasn't the brown man Los Angeles was looking for.
"There's a way that they want minorities on TV and in the movies, and I'm not that guy," Singh says of why traditional Hollywood fame evaded him.
It's not what you think -

He's not talking about the casting calls for terrorist number three, the New York cabbie, or the sexless, awkward nerd. Plenty of other brown and Muslim comedians have spoken about that over the last 20 years.
Singh is referring to a specific trope that points to just enough progress but is still centered on the white gaze in mainstream entertainment: that brown guy who makes you "feel guilty for being white" but who's affable enough so they don't come off "too militant."
As Singh sees it, these jokes are just edgy enough for the execs but do little to push actual representation. And these characters aren't much better when written by South Asians, says Singh. "We don't write shows for us. When we get opportunities, we typically write stuff that white people want."
Think back to Nayyar's character Rajesh Koothrappali, the nerdy Indian scientist who, while being one of the geeks, knew exactly when to throw in a reincarnation joke. On the premiere night monologue on YouTube star Lily Singh's short-lived NBC talk show, nearly every punchline was about how she is, in fact, not an old, white, straight man. Or worse yet, The United States of Al sees an Indian actor playing a diminutive, naïve Afghan translator brought to the United States by the hulking He-Man Marine he translated for in Southern Afghanistan.
What white people want to hear most from brown comedians are jokes about how white people make them feel, but not with too much bite. This tendency results in what Singh says are shows that portray South Asians, but the characters end up "saying some pretty hacky shit." These shows and characters lack authenticity, "This is not for us. This is for white people, to make them feel comfortable."
Singh believes he would have done "better in roles [written] for any race" than ones written explicitly for Indians. Still, non-white actors are rarely allowed to try out for everyman characters.
The truth, says Singh, is that if he had done a "one-man show about how white women won't go out with me, I'd have had a better chance at getting a deal from the start," but he had little interest in perpetuating a harmful cliché that centers almost entirely on a brown man's proximity to the colonial white ideal.
That insistence on telling authentic stories meant Singh had to navigate years of rejection.
Singh recalls an embarrassing night in 2016, opening for Russell Peters, who has long been an idol. Peters is a Canadian Indian comedian whose 2004 special blew up after being uploaded to YouTube and passed around file-sharing networks like LimeWire.
Opening for Peters, Singh bombed. He felt like he'd failed in front of the man he credits for bringing standup comedy to India and showing comedians how to (inadvertently) go viral. He was devastated and never forgot the disappointment.
He made sure that he would kill when he opened for Peters again. And this year, he did.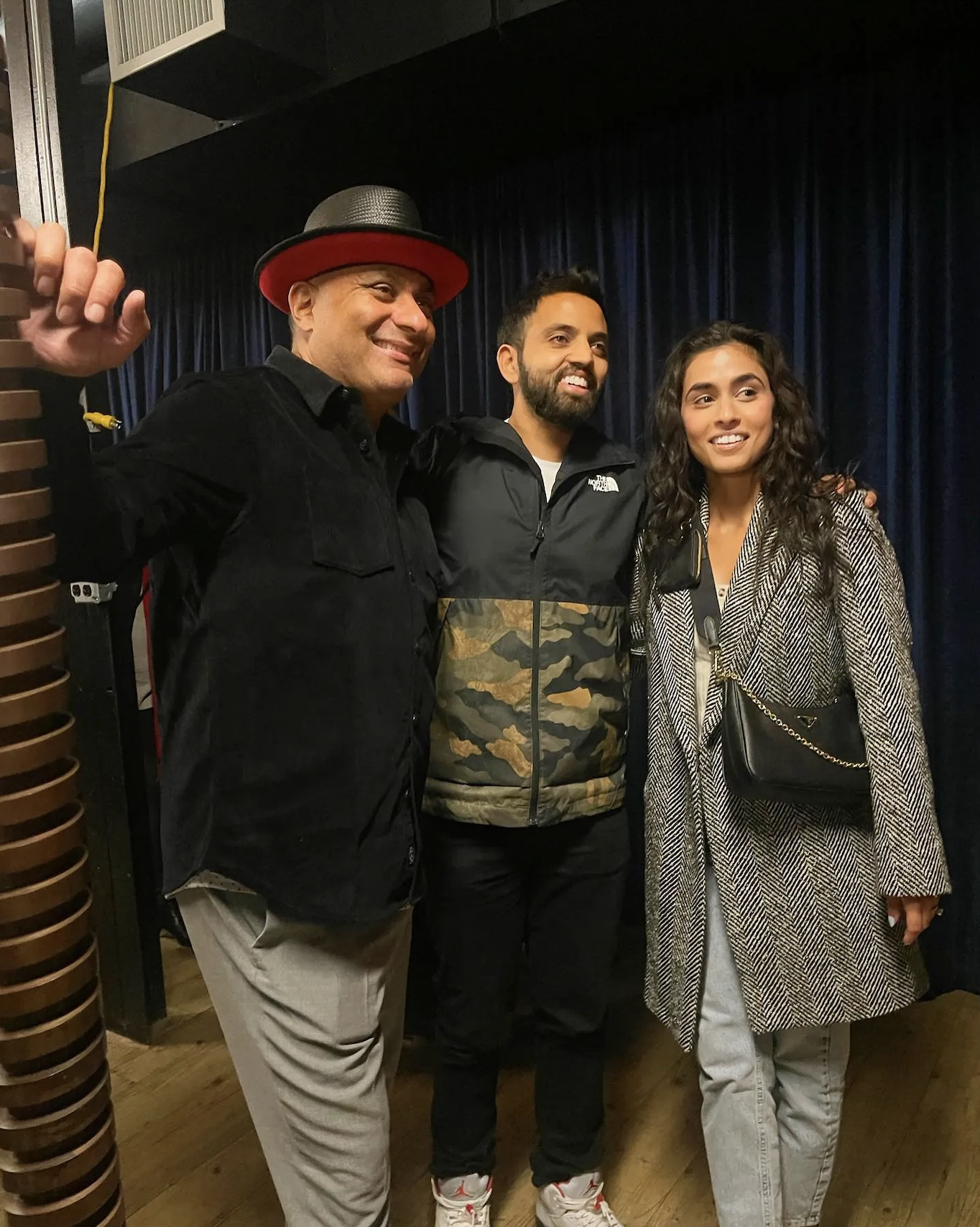 Akaash & Jasleen Singh with Russell Peters
Singh's good friend and podcast co-host, Andrew Schulz, said that delayed triumph showed how hard he worked. When he first met him in 2008, Schulz said Singh used to "bomb all the time."
But he kept at it, refining and honing his craft; spending hours "studying" comics, watching what made the audience laugh, the wording, the inflections, the body language. "He's always had great ideas. Now he has the skill to deliver them," said Schulz.
Singh remembers the long, hard road it took to get here.
He left medical school, bombed at early gigs, and failed to secure a sitcom or agent from a 2016 deal with ABC. After all those struggles, he's determined not to let anyone else tell him what to feel about or say.
"If you work on yourself, it reflects in your comedy," Singh said.
This ability to "decode" topics of race and representation is something Schulz says he admires in his friend and co-host.
"He's the voice for brown people in America. Deeply proud of the culture he comes from while acutely aware of the advantages he has being an American. His goal ultimately being the continued success of his people. He's the best and I'm so excited to have people see it."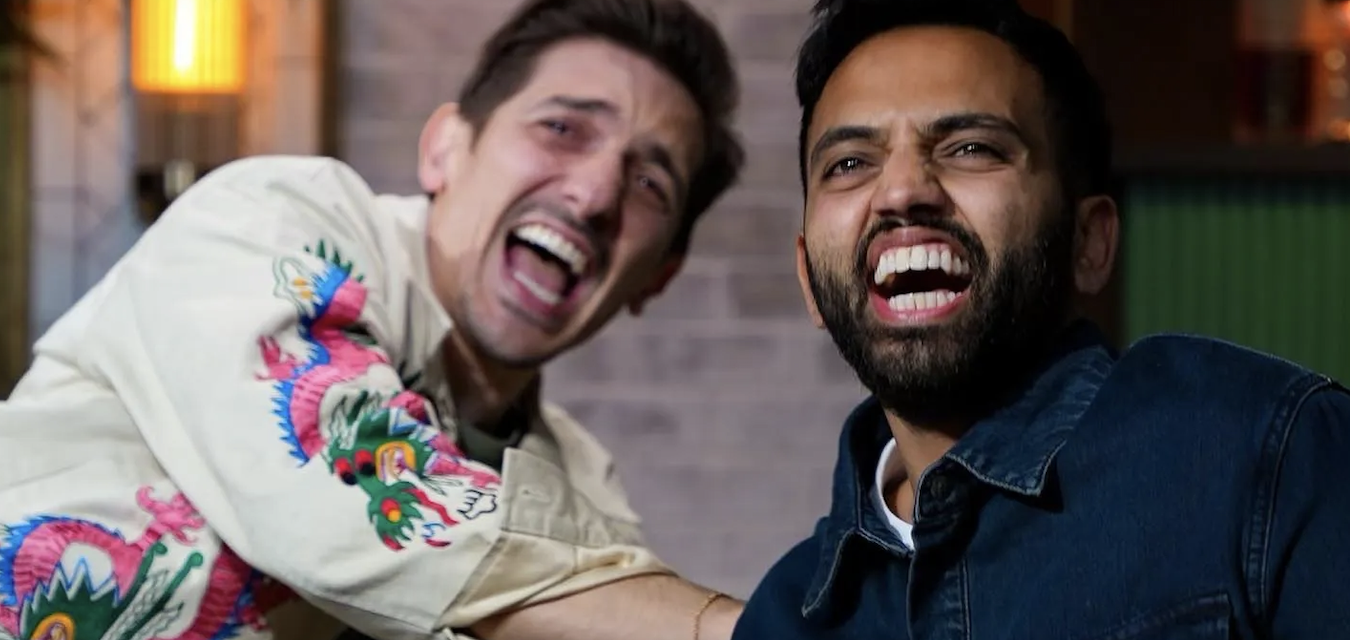 Anrew Schulz + Akaash Singh on Flagrant 2
For Singh, the only way forward is through honesty.
For representation to matter it has to be authentic, willing to cover even the issues we may be compelled to sweep under the rug. "You're always trying to be brown enough," he says, "but we need to come to a point where we can say, 'I'm brown enough for me.'"
It took him longer, but by eschewing the brown man cliches of the early 2000s, Singh escaped the cringey stereotypes and became an authentic voice for South Asians. As one long-time Afghan American listener said on Instagram, Singh (and Schulz) were "lowkey the reason I survived high school."
The Flagrant podcast, hosted with his friend Andrew Schulz for the last two years, gave the world a chance to see who Singh is. According to Schulz, that person is someone who is not afraid to see just how far he can push it.
"We are cut from the same cloth. Ball busters that can take a joke, are offended by almost nothing and believe there's no topic off limits. How could we not do a podcast together," Schulz says of why he turned immediately to Singh for a co-host.
Singh's 2022 YouTube standup special Bring Back Apu pushed him further on the map and landed him a New York Times profile.
Both Schulz and Singh's willingness to grapple with everything from the sexual identity of the green M&M to the war in Afghanistan in an unfiltered manner is impacting young people's worldviews and how they live their lives.
That willingness to take on issues other brown comedians had so long evaded or weren't allowed to broach continued with Bring Back Apu. Singh took a risk and tied himself to a character many peers saw as an extension of the stereotypical media portrayals they endured growing up.
But Singh sees something else entirely.
To him, Apu is a hero for a generation of immigrants still struggling to forge their own identity in a country that flattens foreign cultures into the shrink-wrapped packages sold at a convenience store.
In a fictitious city home to a Mexican man that runs around in a bumble bee suit, a doctor "who's not fit to hold a scalpel," and a blundering blue-haired Police Chief, Apu is a rarity of competence, dedication, and persistence. His overall story, says Singh, makes Apu the only character to truly "evolve" on the show, even compared to the members of the namesake yellow-hued family.
Speaking to Joe Rogan on the promotional trail, Singh says had Apu been voiced by a brown person and not Hank Azaria, he would have likely been seen like "so many of our parents."
Still, he understands that The Simpsons came about in the late 1980s, and producers probably had no idea which Indian actors to approach. After all, The Simpsons premiered only three years after Short Circuit, a film that would go on to infamy for featuring a white man in brown face, Fisher Stevens, playing another thick-accented Indian character.
Singh's continued devotion to Apu contradicts prevailing trends that seek to make television and movies "safe" for society. Pepé Le Pew was left out of the new Space Jam due to decades as an overzealous celluloid sex-pest, and the estate of Dr. Seuss decided to pull some of his problematic works from the shelves.
"I definitely got teased because of it, but Apu was also the closest thing to representation I had on Television when I was growing up," Singh said in a phone conversation from his Manhattan home.
He brushes off Apu's famous detractors, calling them "brown A-list millionaires" who stayed largely silent on the 2021 jailing of an Indian-Muslim comic on allegations of having been heard rehearsing jokes that reportedly insulted Hindu deities and Indian officials but went after a cartoon character in 2017.
Schulz is more direct, saying, "a lot of the Apu haters are just looking for woke points. If you point out things that are offensive you get pats on the back and dollars in the pocket from the woke folks."
In the special, Singh breaks down his feelings for Apu and what he meant for an Indian American boy growing up in Texas. Nearly all of his commentary on modern cancel culture is packed into the special's eponymous joke, which is a feat considering it revolves around a character from an animated sitcom that has been on the air for more than 30 years.
The joke starts by pointing out that Apu was a brown man who got the "beautiful brown woman," Manjula, in a ceremony lovingly (and hilariously) thrown for him by the Simpson family.
If you've ever listened to Flagrant, you know how important it is for Singh that the only Indian character he saw on TV for so much of his life ended up marrying an Indian woman. Moreover, Manjula, Apu's wife, is no shrinking violet of a brown woman, and she has no problem forbidding Apu from dying until their octuplets are out of college.
Interestingly, Singh said he always wanted to create a sitcom about "a modern Indian couple who got an arranged marriage and are making it work." He describes the show's conceit as an Indian Everybody Loves Raymond if Ray and Debra didn't know each other before they married.
Singh often reminds his audience that before marrying his wife Jasleen in 2016, he was only interested in Indian women. It's a point he came back to on a recent Flagrant episode. Singh interviewed the hosts of the Fresh&Fit podcast after they went viral for a clip where they essentially said that they, as two Black men, don't date black women.
Throughout our conversations, Singh kept returning to this point about men of color chasing after white women. He said he has no interest in perpetuating such fetishization. Instead, he wants Indian women to know that he knows they're beautiful and appreciates them.
He brought that attitude directly to the Fresh&Fit boys when they came to the Flagrant set, saying their aversion to Black women is "corny as fuck."
He has a clear message to the men of color who say they don't date women of their race. He holds no punches, saying such a person is "The corniest human being outside of a criminal to me, period … Those are your roots; those women are reflected in your roots."
In the end, though, it's something Singh said to the Fresh&Fit hosts that perfectly summarizes everything he said in the special and where he wants to take his career. "I don't particularly give a fuck how any other race looks at us, I give a fuck how we look at ourselves."
He may not have been the brown man Hollywood was looking for, but by remaining true to himself and his comedy, Singh has become the brown man other brown men, myself included, needed to see and hear in the media.
And for that, I and thousands of other brown folks are genuinely grateful.