Perception is a weird thing. When we see people on stage, it's hard to lose that what they're doing is a performance, that what we're seeing is a projection of art, whether that's a long howl into a microphone ala Jim Morrison, shirtless and mad, or an actor willing to go to the depths of human sorrow with every vocal fit she can muster.
It takes something special to be present in the moment, to live for the next psychological turn, weaving a story together, moving like a rollercoaster, keeping the crowd gasping, wondering "what the fuck is this guy going to say next?"
The trick is giving it to them.
Sitting over Torchy's tacos, it's immediate that Brian Holtzman has layers. He's observant, someone who takes the nuance, the little things about how the human machinery works, and catalogues it through the subconscious. It's apparent in his stand up but seeing it in real-time is impressive.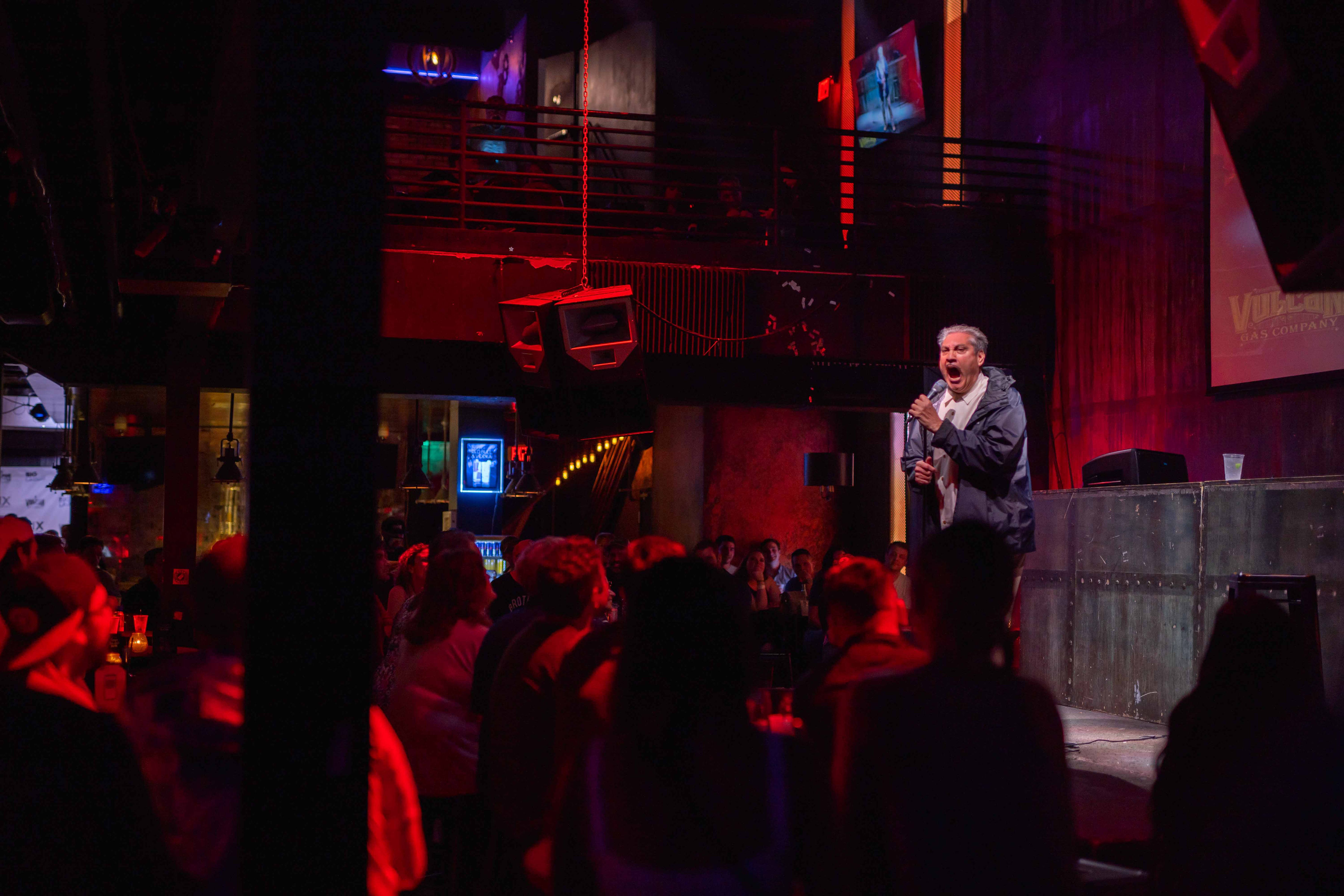 Dragging tortilla chips through arguably the best queso in Austin, he's not the guy you see on stage, playing the role of the old dude who's pissed off about the complicated world around him.
If anything, he's brimming with optimism.
"These young kids coming up, I love it. They say this is the golden age of comedy and I believe it. Some of them are getting huge and it's great for the artform. It's not up to me to decide who gets famous and who doesn't. You wouldn't challenge someone who opens a delicatessen; I don't think anyone can tell you how to do comedy, I'll be supportive as I can."
And it's not just conjectured with Holtzman. You believe it.
Comedy is his mistress, for better or worse.
He lives and breathes for the air on stage, to drink up the laughter creeping from the floor, demanding the room shake thanks to one quick sentence. And despite his place in the books as a working man's comic, the comedian's comic, his heart is humble, "It's up to the audience to decide what's funny, not me. It's art, how many people look at a painting and go, wow, that's a piece of shit and someone else will come along and pay six million dollars for it."
The Comedy Store legend has since moved to Austin from Los Angeles and is settling in, you can catch him working shows all over town, but most of the time, smart comedy producers keep him in the sweet spot: either closing the show because very few can follow his rapid jokes and mastery of the cringe moment or in between whatever heavy hitters also happen to be on the lineup, even if their name is Ron White or Joe Rogan.
"It's incredible that my peers validate what I'm doing."
Rogan openly talks about how Holtzman is one of his favorite comics, and there's a good reason for that. When you see Brian Holtzman perform, it's a train running off the tracks to Vivaldi. He's Rodney Dangerfield coupled with Joey Diaz – he dares to say the things most comics won't, he'll dive into dark, forbidden waters and play there, happily.
The key for comics to level up these days is how they're seen.
Some go hard on social media, while others create high-quality content specifically for YouTube. Holtzman has been working with behind-the-scenes monolith Brian Redban to get his new project "The Dead Air Podcast" off the ground and into people's ears.
Holtzman is charming, he listens to what his guests have to say, it's not a barrage of jokes, trying to keep time, but instead, he cares that the show is balanced, not just for the sake of laughs, but to maintain depth.
In the middle of our conversation, a friend from Johannesburg, South Africa, called to chat. In his phone, Holtzman has him listed as "El Machete," a guy he's never met in person, but the two connected over social media and talk; Holtzman, the white wizard giving the young comic pointers, from across the globe.
As the man's face appeared on a FaceTime call, Holtzman was genuinely thrilled at the advances we've made in technology, "see this shit?! This is Star Trek! This guy is in South Africa!" A student of the world in all of its forms, like wearing a shirt sent as a gift from Chiang Mai, Thailand, or speaking with an evident passion about his love of reading classics like John Kennedy O'Toole's Confederacy of Dunces, rather than harangue about bits that works and ones that don't, Holtzman dangles within the comic enigma.
I'm sure when he's chopping it up with specific crews, talking shop is on the menu, but with me, it's clear he's not the product you see on stage.
He's comfortable playing the role of a willing caricature, "I want to talk about what people can identify with instead of creating this abstract, hypothetical bit. I want to talk about what's going on with society at large, I talk about the different viewpoints of both sides of the fence, I want people to leave wondering, is he a democrat or republican? I say the things you say alone with your friends, except up on stage, the stuff you won't say publicly."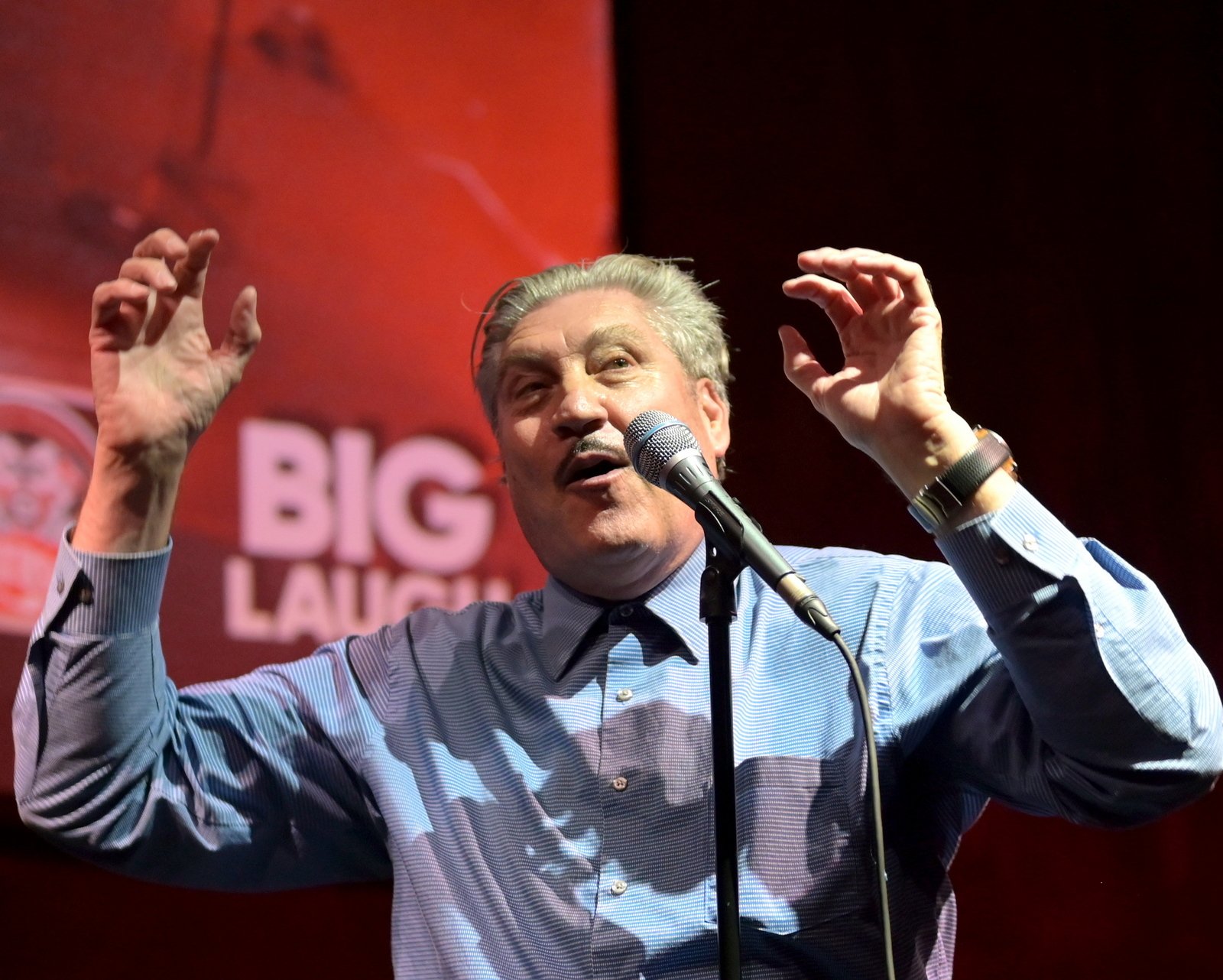 And that's the art of Brian Holtzman's comedy, he crisscrosses like a seasoned NBA vet, freaking both the liberals and the conservatives out one quip after another, but somehow, managing to have both dying from laughter because he knows how to thread the needle.
Any young comic would be wise to ask as many questions as possible because Austin gained a true sensei in the deadly arts of making people cringe, question, and deliver on being a legend in the game.
---
PS - Holtzman's new special, #CANCELHOLTZMAN, is out now! Watch it here.