Watch this week's episode of Thank You for The News with Casey Rocket:
Five years ago, a pregnant mother walked into West Cleveland General Hospital on a night like tonight.
After enduring 12 hours of intensive labor, the doctors delivered the four words every mother dreams of hearing, "It's a Big Laugh."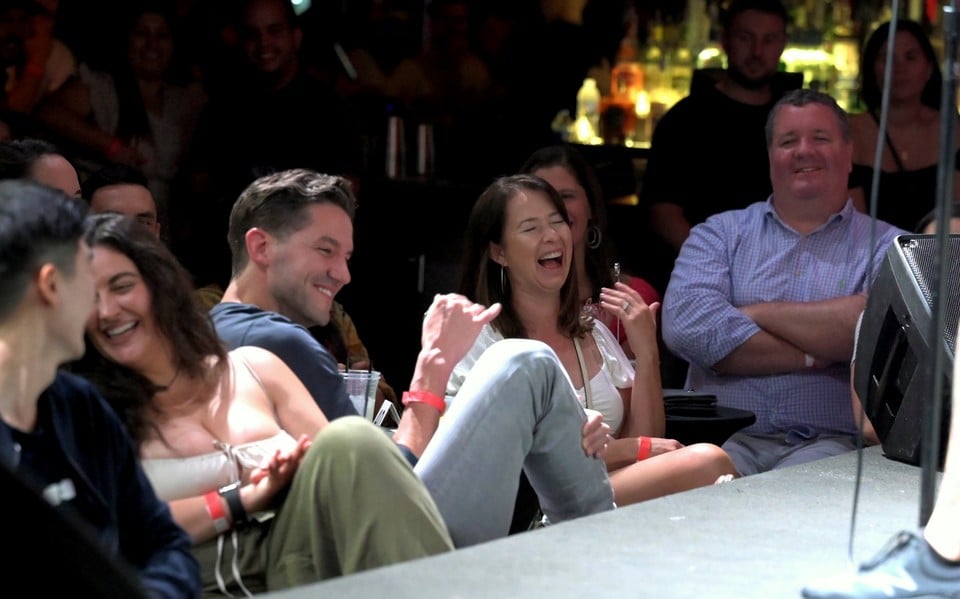 Image by Joe White (@zpixbyjoe)
That's right, folks; hide your extra-marital affairs and turn off your non-secular music. The righteous torchbearers at Big Laugh Comedy have officially turned five years old.
From the streets of Benghazi to the sold-out clubs of Austin, Texas, BLC has proudly brought laughs and, perhaps most importantly, goofs to thousands of people over the years. And it couldn't have been possible without loyal fans like you.
So, in honor of our special day, we've decided to give back. Check under your chair.
That's right. We got each of you a bag of rubies. The perfect precious gem for impressing that special someone on your honeymoon. Better yet, these rubies can also be used as collateral during international arms trafficking.
Have you recently given up your life as a Chechen militant? After a long day at the paper mill, you can eat them as a low-calorie treat.
Don't believe me?
Then why did I eat about 40 of those bad boys last night? And why did I get very sick? You know what they say: you can feed some rubies as a horse, but you can't cure Crohn's disease.
But enough about us. Let's get back to basics. Here's all the comedy news you need to know this week.
The Grimby Half-Hour Power Hour RETURNS
As long as there is breath in my body, Grimace's name will not be forgotten. In many ways, the story of The Grimace Half-Hour Power Hour is the ultimate American Success Story (with the sole exception that it has never been successful whatsoever).
GHHPH was conceived during a ferocious hangover in 2015.
My best friend Pierce Rush and I were trying to eat hot wings after a night of trucker speed and brown liquor. As pleasant as that may seem, it wasn't going so well.
After excusing myself to go to the restroom, where I dutifully checked my pulse for five minutes in the mirror, I returned to the table. While we laughed about how hard we were sweating even though it was 65 degrees outside, Pierce randomly mentioned Grimace – the forgotten purple monstrosity that was undoubtedly conceived during a Quaalude-fueled blood orgy in the 1970s as all great ideas should be.
We both laughed so hard we cried every last drop of Delirium Tremons out of the sullen husks we called bodies.
The rest is history. We set up shop and recorded over 85 episodes of purple debauchery. Over the years, we maintained a small but loyal fanbase, doing several live shows when we lived together in Boise, Idaho.
Sadly, we had to say goodbye to The Big G when I moved to Austin last summer.
A Ford Escape is no place for a podcast studio.
But I was not content to let sleeping riffs lie. After a few tweaks to the name for suspected copyright infringement, The Grim Twins have risen once again.
While Pierce will forever be the original Grim Stallion, I have passed the torch to the hilarious Cat Swantner. With Big Laugh by our side, we've made it a goal to bring you all the Grimby you need weekly.
Our riff-heavy passion project will feature some of Austin's top comedians as we attempt to answer the age-old question: where does Grimace stop and reality begin?
Watch episode #001 of the Grimby Half-Hour Power Hour here:
Small Man Andrew Tate Gets Banned from Social Media
Former world-champion kickboxer, and current world-renown pussy, Andrew Tate has been banned from virtually every social media platform this week.
If you aren't familiar with Andrew Tate, that's sick, and I envy you. Tate is just the latest in a long line of crude self-help meatheads whose only goal in life seems to be spewing whatever hateful, misogynistic nonsense will get him the most views on any given day.
Finally, Instagram, YouTube, and a slew of other platforms had enough, banning Tate for violating their policies on bullying and hate speech.
While your one friend from high school who works in construction and swears he's sober even though he's on Suboxone probably took this news hard, the rest of the world can rest easy knowing this dead-eyed bastard has been silenced – at least for the time being.
Sam Morril's Special Gets a Release Date
Over the past two years, Sam Morril's specials have garnered over 12 million views on YouTube alone. It should be no surprise that Big Poppa Netflix called his number this year.
It was just announced that The Shaman of Sleaze (a nickname he emailed me) would be releasing his new special Same Time Tomorrow exclusively on Netflix on September 1st.
Sam Morril is on a shortlist for the best comics to come out of NYC in the past decade for comedy purists. Delightfully dry and ruthlessly unfiltered, Morril is in a league of his own these days.
In a climate where comedians are constantly biting their tongues in the face of social pressures, Morril follows through with his wry sense of humor.
Just check out a clip of his here:
There's something to be learned there for every comedian, even those of us that crab walk for a living. If you haven't already, you can catch up on his last special, Up on The Roof.
Well, we're running late to place our bets at the greyhound track, so that's going to have to do it for this week.
If you think we missed any eye-popping riffs, spliffs, or gifs, make sure to send us a message to turn your Big Laughs into Big Realities. Stay sweet, my pretties.