This event is SOLD OUT. Please check out one of these upcoming shows!
Thursday January 26th, 2023 - 8:00PM
Location : The Studio Austin, TX
Have you ever wondered what it would be like to watch 3 people compete for a cash prize while having to perform 3 different creative acts?

Of course you have. That is why Alter Ego was created. Originally a streaming show during the pandemic, once called Triple Threat, this unique comedy game show comes to you live. Right here in Austin.

Alter Ego is a comedy game show where 3 contestants compete for your love while having to come up with 3 different wild, crazy and unique acts. Anything from singing, to dancing, to washing a cat, to cooking, to gymnastics and everything else.

You never know what you are going to see. That's why you need to get yourself a ticket and get out to the craziest show in Austin.

This is the first round. If the contestant wins they move on to the finals for a chance to win $500.

Get your tickets now!
Doors at 7PM | Show starts at 8PM
---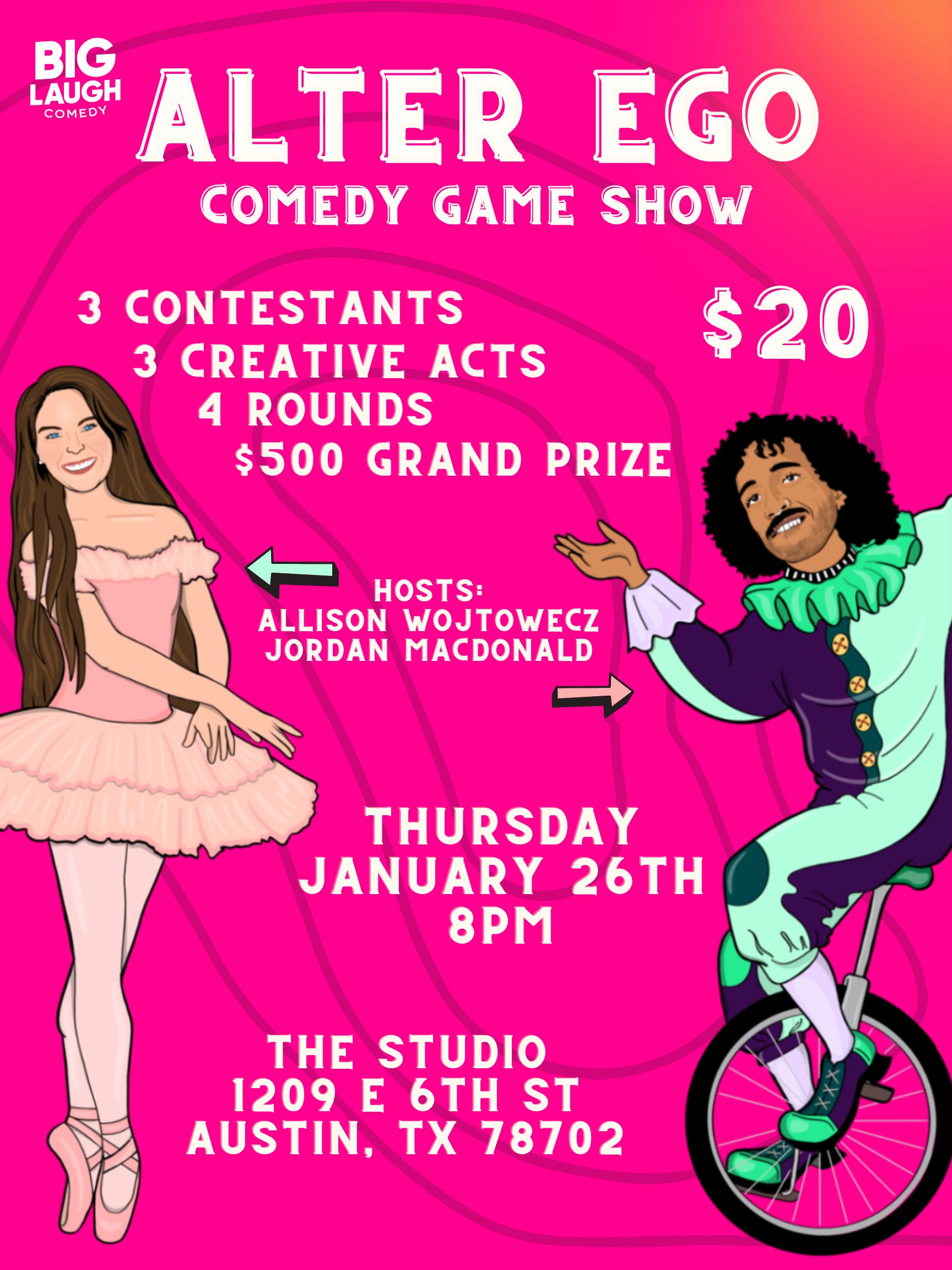 ---
Ticket Info
- Tickets are sold individually
- Please be advised that this seating can involve shared tables with other guests
- You can pick your tickets and where you will be seated at
- Next to each ticket is a layout of the venue and where your tickets will be located
- There are NO REFUNDS
- No heckling or videos during the show, if you can't play nicely you will be asked to leave
- There is absolutely NO VIDEO RECORDING whatsoever
- If you don't show up 20 MINUTES after the show time, you will forfeit your tickets
- Make sure to have fun and be respectful during the show
Grab your tickets before you are stuck wishing you had. Get them now!