Ticket sales have ended. Please check out one of these upcoming shows!
Friday October 15th, 2021 - 8:00PM
Location : @ATXTheJungle Austin, TX
Who's ready to watch grown people cry?
Well maybe. You never know how deep a roast will burn. And for the sake of comedy, we hope it runs deep.
This is the anti-cancel culture. You will witness no holds barred roasting competition. But don't forget this is comedy. Nothing personal.
It's about jokes that make you laugh and the other person question their decisions in life.
Austin has become the home for some of the best comedians in the country. The Austin Roast League offers a chance to see these comedians face off in a way you are going to want to see over and over and over again.
You've seen their stand up, now see how they fare in a competition to see who can out insult their opponent.
Brought to you by Adam Luckey, the host of the notorious Filthy Show and Big Laugh Comedy, who together will bring you the best in the scene to prove who is the ultimate roast champion.
*THIS EVENT IS BYOB*
301 Chicon St. Austin, TX
Doors at 7:30PM | Show starts at 8PM
---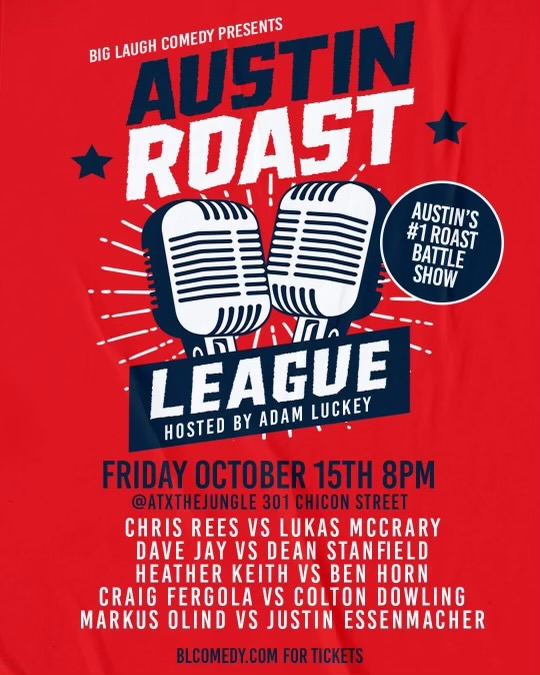 ---
---
Ticket Info
- First come, first serve GA seating
- There are no refunds
- If you don't show up 20 MINUTES after the show time, you will forfeit your tickets
- No heckling or videos during the show, if you can't play nicely you will be asked to leave
-There is absolutely NO VIDEO RECORDING whatsoever
- Make sure to have fun and be respectful during the show
Grab your tickets before you are stuck wishing you had. Get them now!