Ticket sales have ended. Please check out one of these upcoming shows!
Friday December 30th, 2022 - 10:00PM
Location : Big Laugh Comedy Austin, TX
Dropping in like a bomb just before we kick off whatever fresh hell that will be 2023, Big Laugh Comedy is proud to present some serious Latino fire on display at the World-Famous Vulcan Gas Company with Chistosos Comedy. Featuring a lineup of killers who know how to roll their R's and can dodge a sandal coming at them, this will be a night that will not disappoint.
Check out the lineup, buy a ticket and take the ride. 2023 is almost here, and at the very least, we hope it's funny. Because, damn, 2022 was rough.
Till then, get right with the lord and grab a pair of tickets to Chistosos Comedy!
Doors at 9:30PM | Show starts at 10PM
---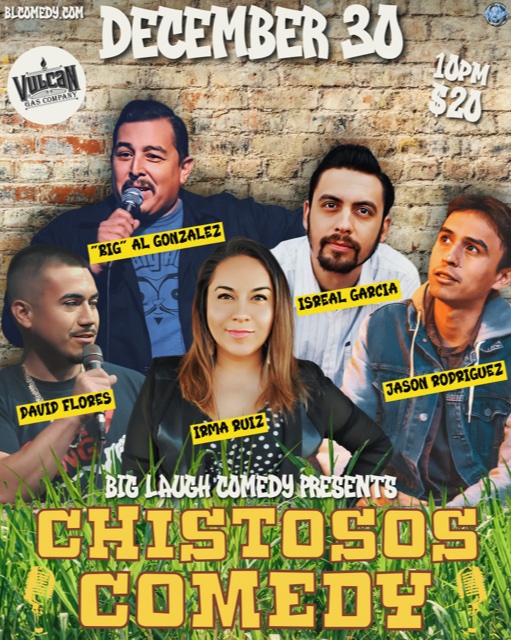 ---
Ticket Info
- Tickets are sold individually
- Please be advised that this seating can involve shared tables with other guests
- You can pick your tickets and the table you will be seated at
- Next to each ticket is a layout of the venue and where your tickets will be located
- This event is 21 and up, valid ID required
- There are NO REFUNDS
- No heckling or videos during the show, if you can't play nicely you will be asked to leave
- No backpacks or other large bags
- No animals allowed in venue
- There is absolutely NO VIDEO RECORDING whatsoever
- If you don't show up 20 MINUTES after the show time, you will forfeit your tickets
- Make sure to have fun and be respectful during the show
Grab your tickets before you are stuck wishing you had. Get them now!