Ticket sales have ended. Please check out one of these upcoming shows!
Saturday January 1st, 2022 - 7:30PM
Location : Big Laugh Comedy Austin, TX
COVID is still wreaking havoc, politicians are garbage, and now they want us in the Metaverse. Does it make you more competent to see all the smoke and mirrors, or should you swallow the blue pills and live in comfortable, paranoid bliss? It's a lot, making us want to get super drunk. Like, Neo blasting at cars with mental powers loaded.
What the hell is an NFT, anyway? We need a guy with a neckbeard and a Walmart Nintendo to explain it real slow.
If you're like us, we're taking the red pill. We're diving headfirst into the madness with our eyes open. Join us for a night of take no prisoners comedy with some of Austin's finest locals ready to challenge the brain and ready to talk major shit.
Bring your trench coats and leather bodysuits.
This is the event you don't want to miss. The lineup include:
Tori Pool
Jen Fulwiler
Eric D'Alessandro
Cristina Mariani
George Anthony
And Bill Dawes
Come laugh your way into the New Year with a new mindset. Get your tickets now!Doors at 6:30pm | Show starts at 7:30pm
---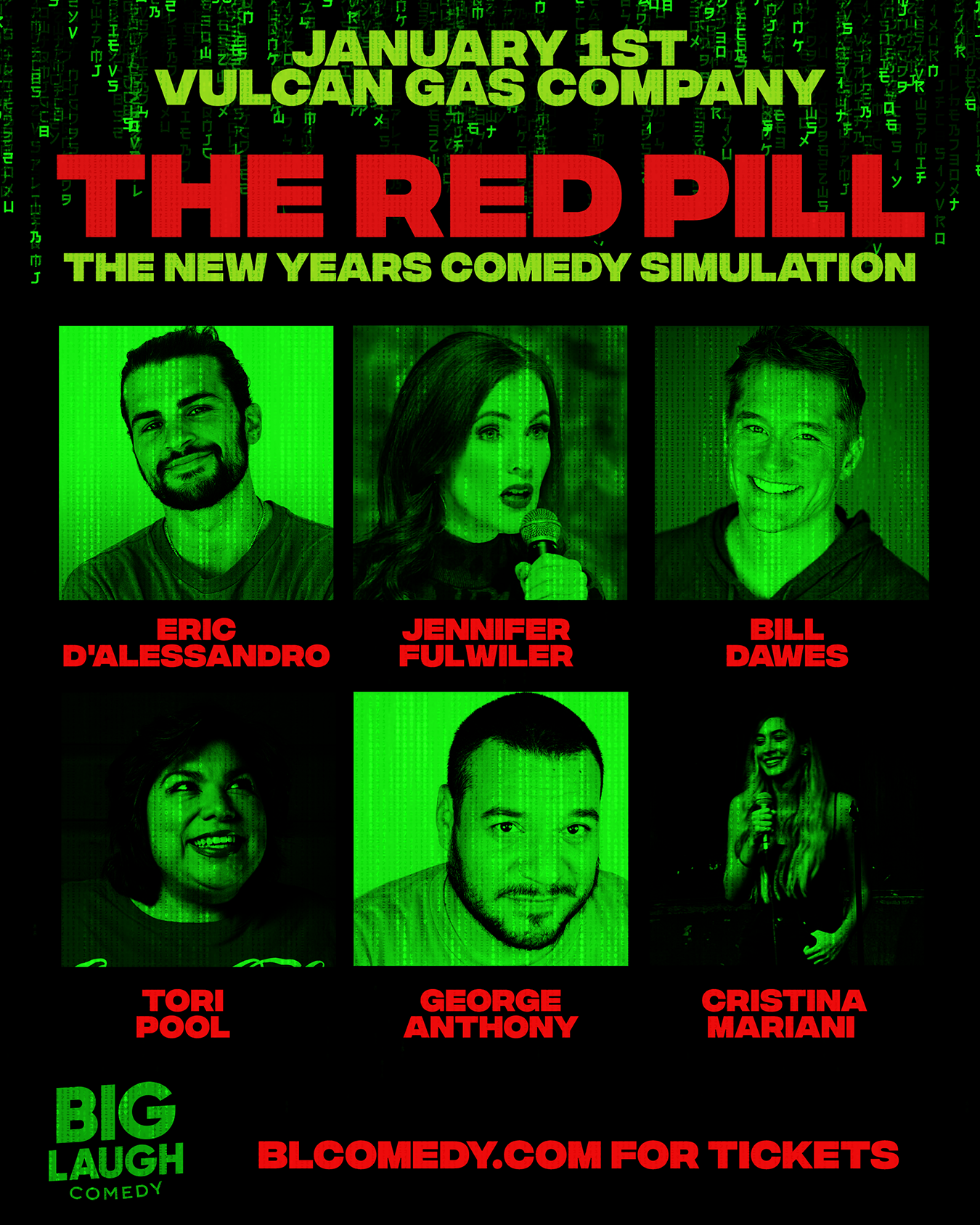 ---
Ticket Info
- Individual tickets available at tables
- You can pick your tickets and the table you will be seated at
- Next to each ticket is a layout of the venue and where your tickets will be located
- There are no refunds
- If you are not seated 20 minutes after the start of the show, you will forfeit your tickets
- No heckling or videos during the show, if you can't play nicely you will be asked to leave
- There is absolutely NO VIDEO RECORDING whatsoever
- Upon entry to the venue, your phone will be locked in a Yondr bag
- No backpacks or other large bags allowed in venue
- No animals allowed in venue
- Make sure to have fun and be respectful during the show
Grab your tickets before you are stuck wishing you had. Get them now!