Navigating a night out in the Austin comedy scene can be like stopping in for a strong one at the Mos Eisley Cantina in Star Wars.
There's no shortage of comics trying out jokes in conversation, hoping one lands, while others slink off into dark corners, searching for unknown pleasures.
There are late-night shows, roast battles, happy hour gigs in random Greek restaurants, and what was once a town dominated by live music now has multiple comedy shows of varying degrees of funny every night of the week.
There might be a little cocaine and a few spilled drinks, but it's never one-size-fits-all.
Some of the comics floating around Austin are working their way up the ladder one dick joke at a time, while others continue to bomb harder than an Obama drone strike at one of the many open mics.
That said, a few voices emerge from the primordial ooze of the Austin comedy scene, and they're not just crawling up from the muck with a microphone between their teeth, but they're actually funny.
Seated in the back of The Jackalope on Austin's infamous stretch of bars on Sixth Street, known as "Dirty Sixth," Mike Eaton is one of those comics who's been slugging his way out from just another scene comic hoping to get their shot on Kill Tony (he has and crushed), or getting ten minutes on a gig (his record is doing sets on five shows in a single night).
Instead, Eaton has been on the road, appearing all over the country, playing places like Denver or New Orleans, and throughout Texas.
Sitting with Eaton over strong doubles of whiskey as the Ramones ripped through Jackalope's overhead speakers, you're left with an immediate impression of what kind of guy Mike Eaton is and, more importantly, why he's willing to work himself to death.
Look at a flier around town. You'll see his name climbing higher toward the top spot on the bill; this dude is ready to chase a joke, even if the outcome might not be what we dream about as the path to endless laughter.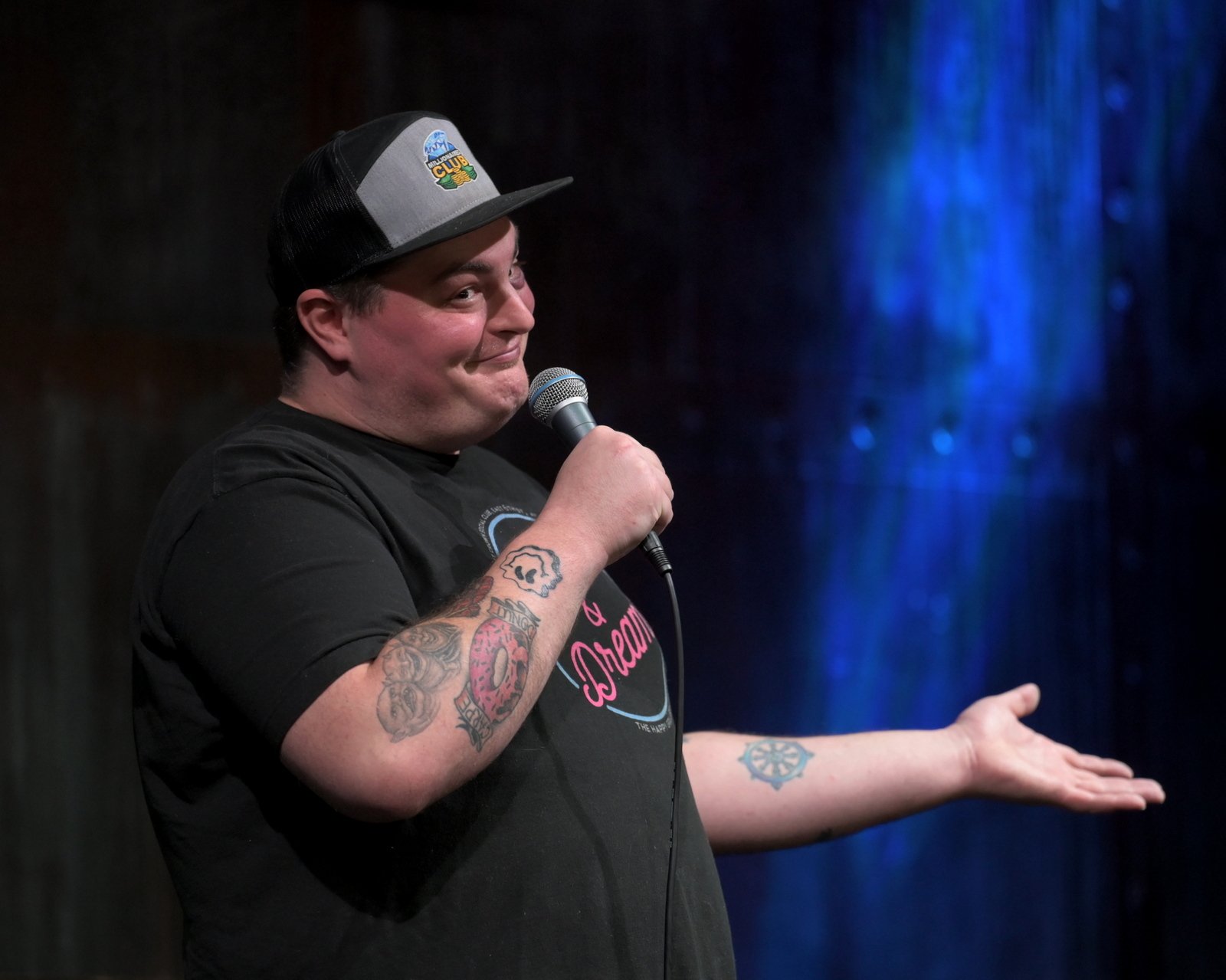 Mike Eaton on Brian Redban's DEATHSQUAD Secret Show (shot by Joe White)
With Eaton, nothing exists in a vacuum.
Despite knowing how to craft a joke, he's got complexities about him that most people chatting over a Lone Star after a show wouldn't guess, namely that he's wildly passionate about high school football, flashing his True Texan card.
"Texas football has a lot of layers and scandals. There's a lot of nepotism in the programs. On a random Saturday, the right team in a supportive town can net thirty-eight thousand people watching a high school game! The town I played for, South Lake, we were a 5A team, Under Armor, and everything sponsored us."
(And this is where Eaton goes DEEP in the weeds on the Texan high school football identity, that if you're unaware and haven't watched one of the many tv shows and movies about it, it's a whole thing down here. But he regales a story about the depth of transitioning players from a particular high school level to a collegiate level and what those programs take. The guy drops some stats on pass rushing while rattling off Texans who've gone off to varying degrees of success thanks to the state's adoration of throwing the pigskin through double coverage on a 3rd down.)
Comedy like what?
Mike Eaton's journey into stand up wasn't the traditional route of watching some Comedy Central specials, thinking, "I could do that."
Instead, Eaton started by being a motivational speaker, typical for a guy in his 20s, motivating who and how? We didn't exactly dive deep.
"I went to school for football and wanted to do something in politics but realized I didn't fit into either world. I roamed around during my 20s, trying to figure out who I was. I wanted to do a job that wouldn't make me miserable.
"I got into motivational speaking, which helped give me stage confidence, but it wasn't me. What the fuck am I going to hype you on? I could barely pay rent.
"Me and a buddy wound up getting stoned on 420 and signed up for an open mic at Hyena's in Dallas. I was thirty-eighth on the list. Couldn't have been any worse of an experience. I got there at five and didn't go up till after one am. I went up and it was like crack.
"I was bouncing around still, I was telling people I was a comic, but I wasn't really doing comedy. For a while, though, I was doing the Cap City open mics, which was phenomenal. There would be a full house with paying customers. I mean, it was an easy room. I was telling some hacky fuckin' jokes. I saw people eat a bag of dicks in the world's easiest room, which helped with confidence, though."
Through the process, he picked up on some finer details of what not to do when getting up, "I learned to not wear shorts and flip flops on stage like an asshole."
And by hitting places like Secret Group in Houston, and San Antonio, along with every room with a microphone, Eaton developed his style, which is constantly evolving. He's got a lot of points of view that cradle within witty one-liners while being cool with playing the jovial Chris Farley archetype. Eaton works toward material with emotional depth.
But, the identity of Mike Eaton doesn't solely live within the realm of jokes because while he's telling the HaHa's, he's continually surprising those around him, who, as I was taking a sip of my Jameson, tried to sell me on the similarities between comedy and….dubstep.
"Do you do drugs?"
"No."
"Ok, so here's the thing. If you do one or two points of molly, as the kids call it, you'll have this big serotonin rush, which makes electronic music way more fun."
(At this point, I wanted to tuck and roll into the alley. I love Mike Eaton, but boy, do I hate dubstep.)
"All dubstep is a build-up to the drop. And the drop is this terrible, fucking-robot-garbage disposal sound. I'm convinced that all dubstep DJs want the most obnoxious and unpalatable experience possible.
(Again, body on fire, swimming in alley juice.)
"This creates a juxtaposition that makes the song so enticing. You're left wondering what's going to happen, even though you know it's coming. A joke is like that. You know the punchline is coming, but it's how I get you there. And sometimes, it can be ugly."
I'll leave you to decide if he's right or wrong. Comparing the delicate dance of how Christina P weaves a brutal joke about overweight models or mom bods against Skrillex's slamfuck noise isn't the same to this cowboy.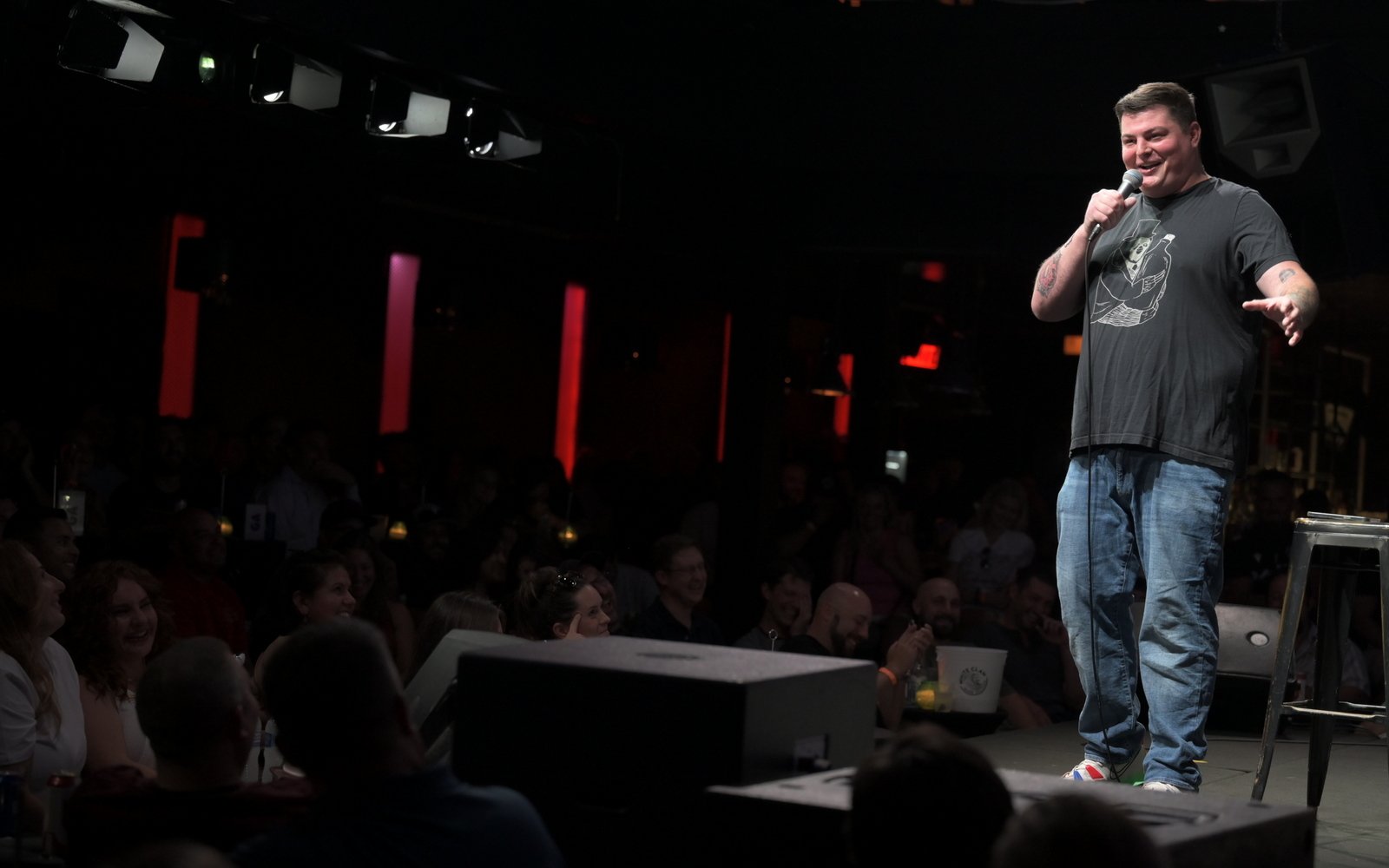 Mike Eaton on Brian Redban's DEATHSQUAD Secret Show (shot by Joe White)
Out of Bounds Delicious
And he loves food. One of the first praise choruses Mike and I bonded over was Austin's food scene.
We're both always looking for that secret burrito spot or who's killing it with their Korean BBQ. The conversations on sauce, pliable noodle texture, or what should go on a good burger are what we chat about when we catch one another like two ships in the night, one of us off looking for adventure in the shadowy drive around town, while the other offers a slice of himself on whatever gig will have him.
"I had parents that separated when I was two, so there was a lot of takeout. Both parents pulled themselves up from their bootstraps. My dad got to a place where we ate out every night of the week, and we'd try everything. My dad ended up being financially successful, so we got to eat at many nice places.
"I was young when I learned the difference between a well-prepared dish and a chain. And I started to find food that I liked in different places. When you meet someone who loves making food, you can see it in their faces and taste it.
"When I started making money, when I was on the road, I'd try the best-reviewed place in town and ask my servers, 'what would you eat?' Doing that led me down some interesting paths. And I've been into food ever since."
And since our first meeting, there's always an exchange, not about comedy, but about what we ate that week if something stood out, or if we traveled, and if there are photos to share, we're showing one another last week's seared rib eye.
Mike Eaton has done a few podcasts, spoken endlessly about his love of a solid plate of sushi in interviews, and most of his stories are on some fat boy shit, usually covered in chili and cheese. Eaton works hard lamenting the thrill of the joke, always looking for his way into the throne of Guy Fieri's FlavorTown.
Still, as we're chatting through the noise of The Bronx's "Heart Attack American '' and the tourists stream in to snap a photo of the tattooed weirdos of Austin, he's calm and relaxed.
He's got a set later. He says he wants to try to jump on another at Creek in the Cave, but he's already asking me what I will grab for dinner.
I told him tacos from one of my trucks up on Lamar, immediately, he gives me a big high five and a signature "fuck yeah, dude. Carne Asada for life."
PS - look out for Mike's first special, dropping soon on YouTube.